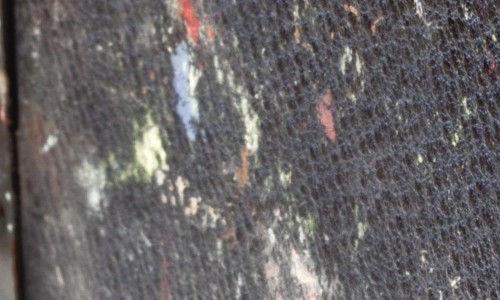 It is barely visible through the glare of its plexiglass container but I am struck by a paint-splattered box-camera included in the exhibition George Hendrik Breitner: Pioneer of Street Photography at De Kunsthal, Rotterdam. As a reminder of this crude object tainted by extensive use, I take a picture.
At home, I realise that I have left my phone (with the picture on it) in a train. I start looking on-line for Breitner's camera thinking that it should be easy to find. To my surprise nothing turns up.
I remember that the object was on loan from an academic collection in Leiden. The Leiden University Library has indeed a 'Special collection' on early Dutch photography, and a website 'Special Digital Collections' at: https://socrates.leidenuniv.nl/R/?func=search-simple&local_base=gen01-disc.
In a sub-collection 'Photographica' I finally locate a detailed record for the camera that was on display in Rotterdam.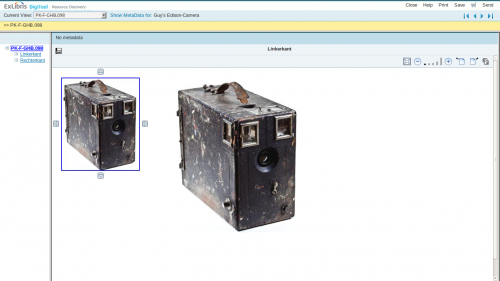 Shelfmark: PK-F-GHB.098
Title: Guy's Edison-Camera
Date of creation: [Tussen 1898 en 1902]
Object: 1 camera : boxcamera
Remarks: Camera gebruikt door George Hendrik Breitner
Location: Universiteitsbibliotheek Leiden – Prentenkabinet – Kluis -1 kast 22219 plank 2
Rights: For information on rights and reproductions, please contact the Special Collections Reading Room.
The software to manage this digital collection is called Ex-libris DigiTool, tool for resource discovery. The Leiden Special collections are prominently featured on their website as a successful case of how Ex-Libris helps 'Orchestrate Institutional Repositories'.
Wedged between Close, Print, Help, Send and a shoppingcart (which adds the record to my 'e-shelf' but no clue how to access this space) is the option Save. It is unclear what it will save and the file-extension .sav does not disclose much either.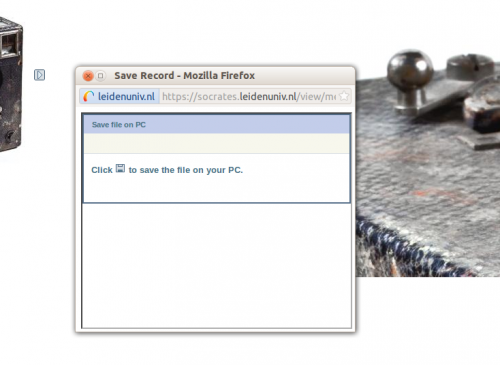 .sav is a generic extension, used for saving progress in video games but also for predictive analytics created by the proprietary Statistical Package for the Social Sciences (SPSS). As for opening this file, I find the following advise: "Various programs use this extension; too many to list individually. Take clues from the location of the file as a possible pointer to exactly which program is producing the file. The file's date and time can also help if you know which programs you were running when the file was written." Right.
I suspect from the microscopic size of the file that this is probably meta-data saved in a convoluted way, but I install GNUPSPP to be sure. It is nauseating to imagine the budget, work, hours spent on digitizing this iconic object only for it to end up in a digital dungeon.