The first ever Research Meeting in the context of the Libre Graphics Research Unit took place now more than a week ago. Organised by Worm and themed Networked Graphics, 30 participants from across Europe gathered in Rotterdam for five days. We traversed "The extremes of Networked Graphics" as WL puts it: From demo-scene classics to the unparalleled world of 'Fundamental Research', from high-powered 3D-graphics to an informal state-of-the art in 3D-printing, from Visual Versioning to the need for dialogue between edit and lay-out.
On Wednesday we start with a tour of Worm, or more precisely their newly opened building. We linger with Esther Urlus in De Filmwerkplaats, enjoying her astute understanding of the multiple relations between technology and practice. She hands us a copy of To Boldly Go: A starters guide to hand made and d-i-y films:
Let's not keep any secrets! These (chemical) receipts, printing processes, after dev. Effects, emulsion extras and celluloid experiments should be absolutely public. Let's make hand-made d-i-y films! Let's make a lot!1
On Thursday, The Unit is invited for lunch at the Piet Zwart Institute's Networked Media department. We are welcomed by RT, MM and AM. Their presentation is more than encouraging:
The pipeline, as an approach to creating an artistic work, is in dramatic contrast to a traditional image of the "isolated artist working in the 'clean room' of his/her creative suite…" and recasts work as being a flow of material across different sources. This acknowledges that the tools are themselves represent decisions, assumptions, work of others, negotiations/compromises. Often a project can have a powerful impact simply by making an unexpected connection between systems.2
Later that night the Constant/OSP delegation decides to return to school and work. RT has lend us her master-key and we feel strangely excited as we let ourselves in to the building that seems lit by fluorescents 24/7.
PH and PM continue their discussion on what could be a flow-based approach to lay-out. Like a pearl necklace, they imagine lay-out actions to be threaded on a string. Sparked by the simple gesture of touching a keyboard, a deeply political process of linking previous and future decisions is launched. To be explored.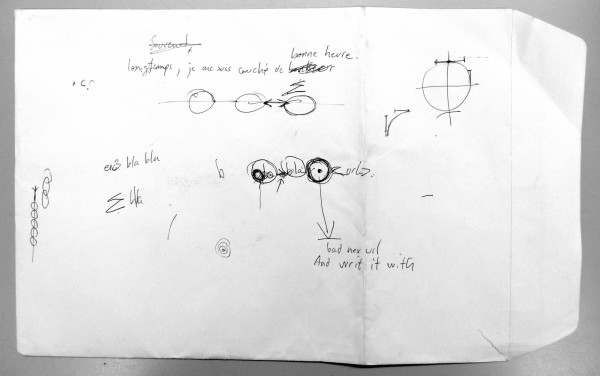 GDH has taken up on another challenge. In a session on Networked Lay-out earlier that day we end up talking about how canvas-based and typesetting engines have different relations to computation, parametric design and the physicality of the printed page:
FS: It was frustrating but interesting to discover that in TeX/ConTeXt the idea of a fixed page doesn't exist. I mean… the page does not exist before compilation.
PM: That's not true. Page size is the first thing that TeX will ask for!
FS: Yes, you are right. But beforehand it knows only about the page in terms of size, not in terms of amount. It meant that I had to recompile my document several times, trying different font-sizes and margins in order to end up with a booklet of exactly 36 pages. It felt as if I was doing the kind of work that the engine could have more easily done for me?*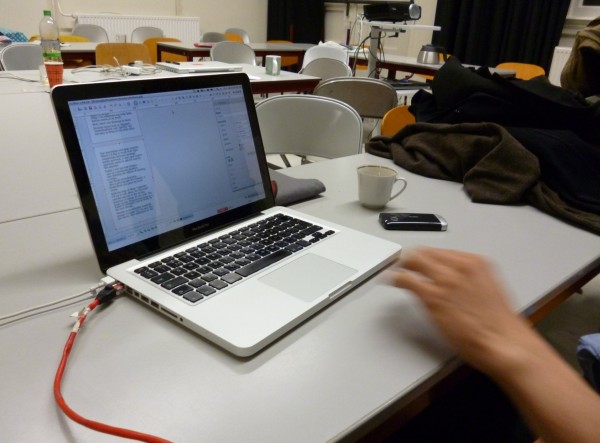 After midnight GDH finishes his prototype: A Python script for Scribus which treats margin and font-size as a variable, depending on how a text can fit a fixed amount of pages. It might sound like a small step, but I see the contours of a more interesting connection between canvas based and generative design.
In the mean time, work has commenced on the LGRU-reader. This Reader is a thinking tool disguised as publication, a collection of wanted and existing texts that helps us develop and focus research on Libre Graphics. The editorial team is made up of people living in different continents, so the discussion happens simultaneously on IRC, Etherpad and live in the Worm-cafetaria:
<NM> But the point is not to look for the purest grass root formats
<LN> ah
<NM> Rather to look for the complexity of spec-design
<LN> Hmm: so collaboration in this case is dependent on limitations of mediary figure?
<SV> AL: The UFO format was made to exchange between different softwares. He's not sure though. ES knows?
<ES> Yes for that and for longevity. But to get to your question LN...
<SV> Sorry. Now we have to go outside to make a group photo to prove to that we are here.

--> IML (~nn@189.179.240.141) has joined #lgru-reader
<ES> So LN ... with intermediary figure you mean the format or the people introducing, mediating the format?
<IML> ey
<LN> I don't know. In the case of what NM said about "interference and intermediary above" I wasn't sure if this was the format, or people.
<SV> IML!!
<NM> The intermediary is both file and people, or interest groups.*
Friday is about the interdependence of the physical and the digital. I struggle with the adolescent sexist imagery that Visa-Valtteri tours us through, but am fascinated by graphics that result from the play of hardware against software or vice versa.
Bas Schouten works for the Mozilla Corporation and his presentation of the Azure project takes on a different tone. Azure is 'a stateless graphics API that's closer both to platform APIs and hardware' and as his talk3 progresses, we start to understand why high-end 3D graphics such as WebGL require direct access to user's machines. But we also understand that richer networked graphics paradoxically necessitate a more closed approach to the web, or at least that is how Bas presents the situation:
LGRU: You presented the Azure project as a way to shortcut the CAIRO open source/community-based development; can you say more about that?
BS: You mean: Is the slowness from CAIRO not part of openness actually? Yes. People hamper progress. It is like politics, it happens a lot, people that hold a project hostage. We do develop CAIRO – we do contribute to that project, but our resources are limited. We need to compete with Chrome and Explorer. And don't forget: paid employees review code at Mozilla; in the end all API decisions are made by The Company. What is our mission? Trying to be as open as we can but there are trade-offs. We do want to stay around for a few more years.*
On Saturday, Robert B. Lisek catapults us back into the world of networks with his delirious trip linking terrorism to graphics. To think about graphics is to think about the relation between things, he seems to say:
Maybe it is my brain, but when holding this book, I see it as a group of elements.
On Sunday, just before the Constant/OSP delegation drives back to Brussels, PH crosses the Maas-bridge by foot to pick up his car parked on the other side of the river. Underway he discovers Maasbeeld, a sculpture by Auke de Vries that connects the pillars of two bridges. PH thinks that as a visual reference to the work on Co-position that has started to cook, this image might be more useful than a pearl necklace. Locals have nicknamed the sculpture 'De Waslijn' (The Clothesline).
*This is not a direct quote, but a faithful reconstructions based on our collective notes.
More notes and images: